Feature Packed
Shouldn't your home control software be as custom as your home? Home Control Assistant is built from the ground up to put the power back in your hands. Don't just control your home - program it the way you want.
Device & Standard Support
HCA is built from the ground up to put the power to innovate into your hands.
While HCA supports many of the popular automation products right out of the box, more exciting gear becomes available every day and we are there making HCA better every day - 14 versions and going:
Broad Device Support
Home Control Assistant plays well out of the box with Insteon, UPB, IR, Wireless, IP connected devices, thermostats, IP Cameras, weather, and X10. (Built-in support for some types of devices requires HCA Plus).
Generic Interfaces
Interface with any device that talks over a serial, USB, or IP connection with very little fuss or muss.
Voice Support
Home Control Assistant speaks both Amazoneze and Googlian. With a few easy steps, your Amazon Echo or Google Home device becomes the hub from which you can command your entire home. Call for a single light, control entire scenes, or trigger an HCA program, all with names you choose.
---
Google Assistant
Connect HCA to Google Assistant through the Home Control section of the Google Home app.
Amazon Alexa
Just add HCA to Alexa through the Smart Home section of the Amazon Alexa mobile app.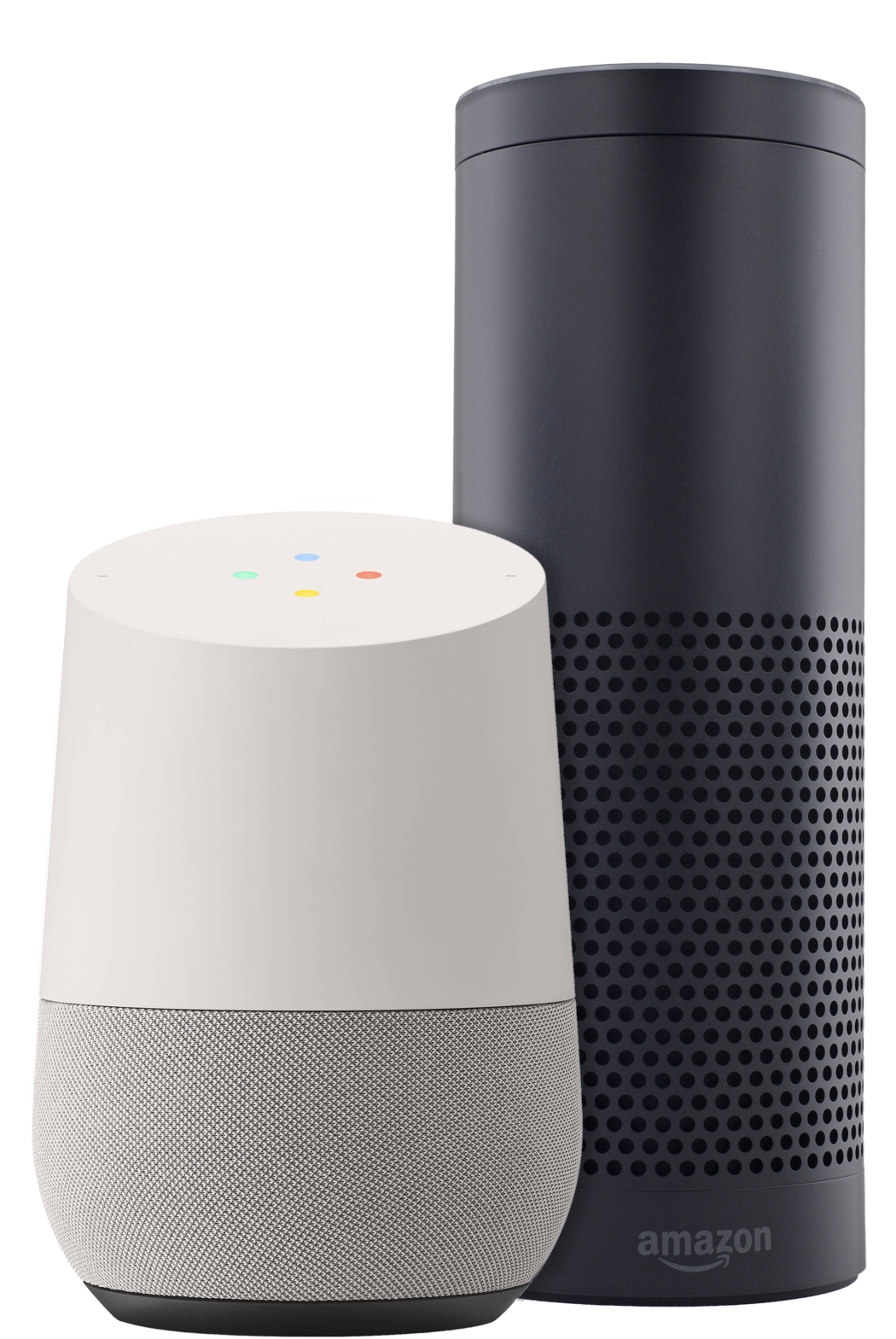 Devices sold separately.
Enticed? Try HCA free for 30 days!
Powerful Visual Tools
---
Build incredibly powerful handlers for events and condition-dependent actions without ever writing a line of code. No more painful scripting. Home Control Assistant's visual features put the power to innovate and customize back in your hands.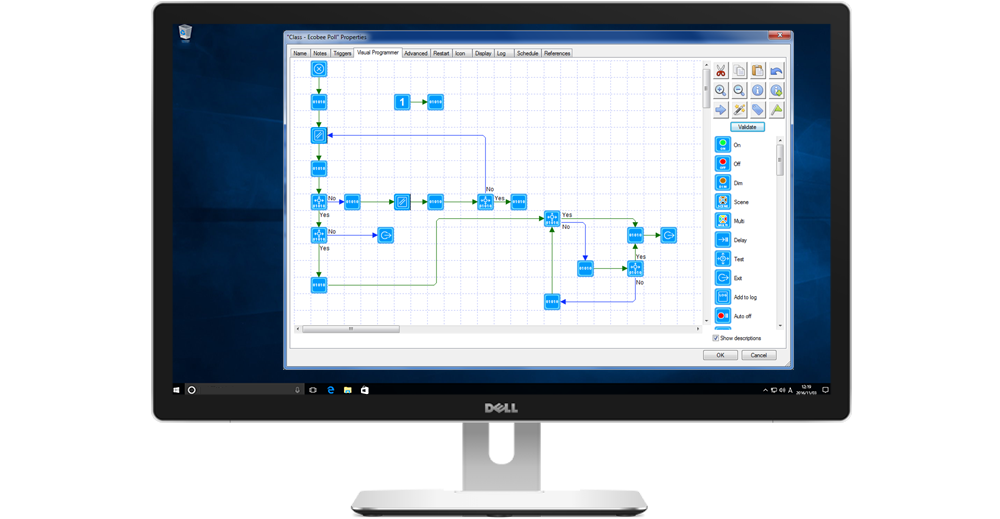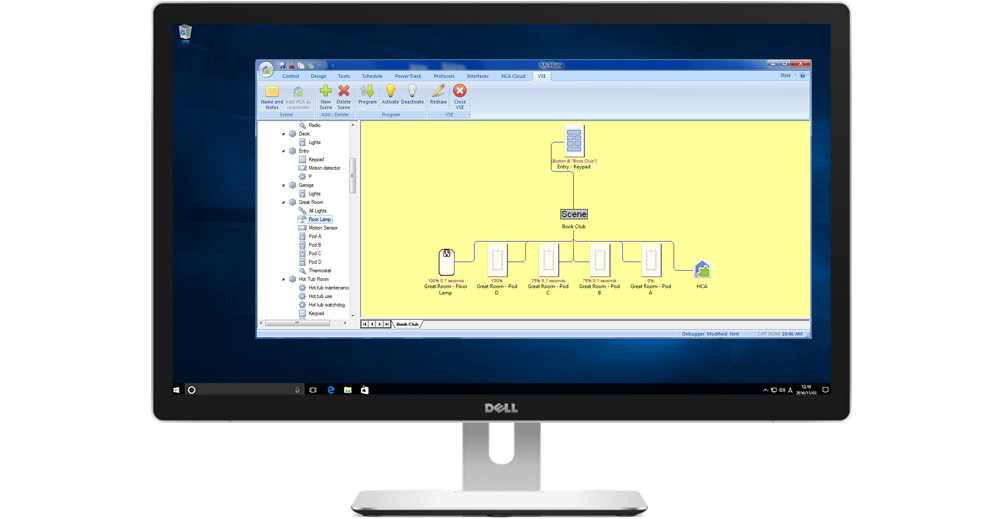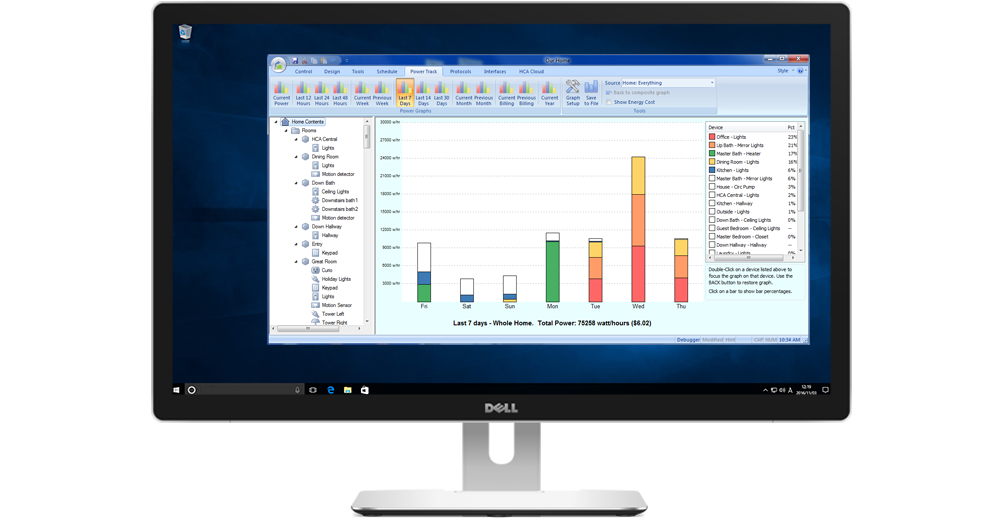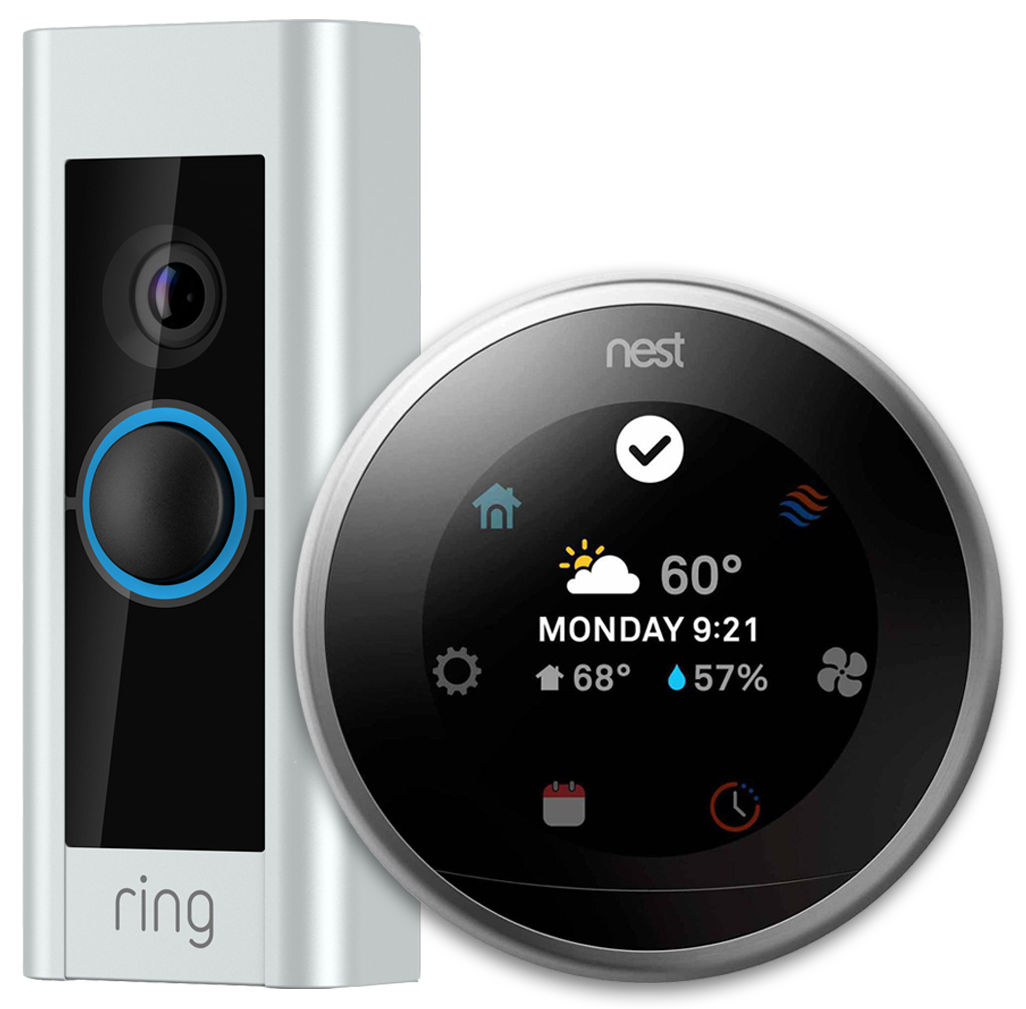 Devices sold separately.
HCA in the Cloud
Want your cloud-based doorbell to trigger HCA to check the time of day or even the weather before deciding how to respond? Synching HCA with popular cloud-based Internet of Things services puts the power to innovate in your hands. Trigger devices, scenes, and HCA programs based on cloud events you configure.
---
Partner Connections
Connect with devices in the cloud like the Ring doorbell, Nest thermostats, alarm panels, and more.
Monitoring & Trust
To make your home truly "smart," it has to be able to make decisions and anticipate your needs on its own. Still, HCA makes it easy to keep an eye out under the hood and helps you catch and remedy problems before they grow.
Logging
HCA has extensive time based logging of receptions, transmissions, program actions, etc. This is your first stop to see what happened when and to trace down problems in the logic of your home.
Alert Manager
Things go right but sometimes they don't. HCA transmits to a device and the device doesn't respond. The Alert Manager finds problems like these and logs them for you to look at later.
Design Checker
Set up a keypad to start a program but forget to link the keypad button? Every time you make a change the HCA design checker looks for these kinds of problems and reports them.
Import / Export
Got a great program that you want to share? Figured out a clever way to integrate lights into your room or respond to sensors? With import/export you can extract those portions of your design and share with the HCA community.
Checkbox Control
Home Control Assistant adapts to be an automation solution that works for you, regardless of your skill level or needs. The simplest set of tools are configurable with a few checkboxes, to get you started fast. With no programming you can easily configure an auto off for a device that can be different at different times of the day, specify how different devices in the same room interact, or set up devices to respond as you move through your day – at home, away, asleep. Then, over time, tweak and advance your system as your needs and tools become more sophisticated right along with you.
Client/Server
---
Using HCA in a client-server configuration allows you to tap into your HCA installation from anywhere in your home, or around the world.
Powerful Tool. Thorough Documentation.
Home Control Assistant is designed to be extensible and powerful. We've worked hard to make sure that you can unlock the full power of your home with thorough and well-maintained user guides and a video tutorial library.
More than that, we've gone out of our way to explore how our product connects to others, and also made it easy to contact us with questions.
User Guides
To make sure you never miss an opportunity, we wrote a complete User Guide that explores each feature in-depth. There's also a Quick Start guide, distilled down and ready to get you up and running right away.
Tech Notes
We recognize that some elements of the home automation space remain... quirky. For those complex cases, we've created a library of thorough tech notes, updated frequently, to explore how to unleash the power of HCA to tame even the wildest integrations.
Two Options to Meet Your Needs!
---
Choose your HCA edition to get started, or give HCA Plus a shot for 30 days and then come back here when the trial's up to purchase it!
Buy From Our Reseller!
We also partner with the great folks at Smarthome.com. If you prefer, you can purchase either edition of Home Control Assistant through their site.
HCA Standard HCA Plus
---
Join us here for periodic news. You can unsubscribe any time.